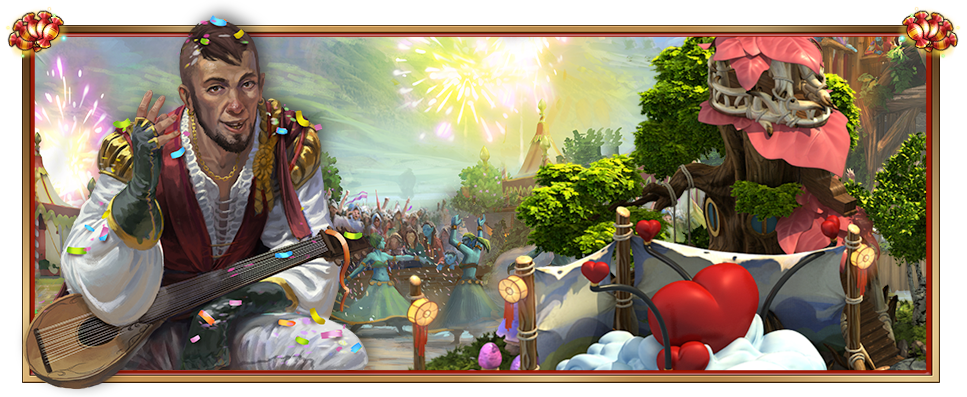 Dear Humans and Elves,
Your citizens are preparing for another Carnival celebration. Halflings are making their famous wine, Fairies are hanging up their lanterns, and even Golems are helping with moving things around.
Estrella and Robard lead you through this festive season and take a closer look at all the wagons and chariots, which form the parade. As Valentines Day falls into the Carnival season this year, your citizens are preparing a special float, honoring the most romantic connection in Elvenar - Burukbrak and Gaelagil. Will you help everyone finish the Valentine's Float in time for the celebrations?

By fulfilling event quests and searching the outskirts of your city, you can earn
Candy,
which is used to open Chests. Opening the Chests not only grants you a reward (and a chance at some nice daily exclusive prizes), but will also give you Flags, which move you closer to your next Grand Prize goals. Among these Grand Prizes you can find some great expiring buildings and
Valentines Artifacts
. These Artifacts allow you to evolve this event's special building, the
Valentine Float
. With this building's help, your citizens honor Burukbrak's and Gaelagil's special Valentine's story: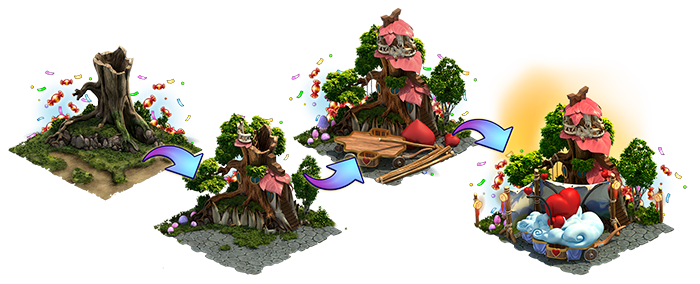 Once you completed the quest line for this event, you can take your chance at obtaining even more Candy by completing the Mystical Object in Crafting. Each of these Objects has a chance at giving you a significant amount of Candy.
The event will run from
February 4th until February 26th,
so take your time to enjoy the festivities in your city! If you would like to learn more about the event, please refer to our
wiki article
or watch Steffi and Thomas hold a casting for one of the rare spots in the parade:
We wish you a lot of joy with our Elvarian Carnival event and would love to hear your feedback about it in our
discussion thread
!
Kind regards,
Your Elvenar Team