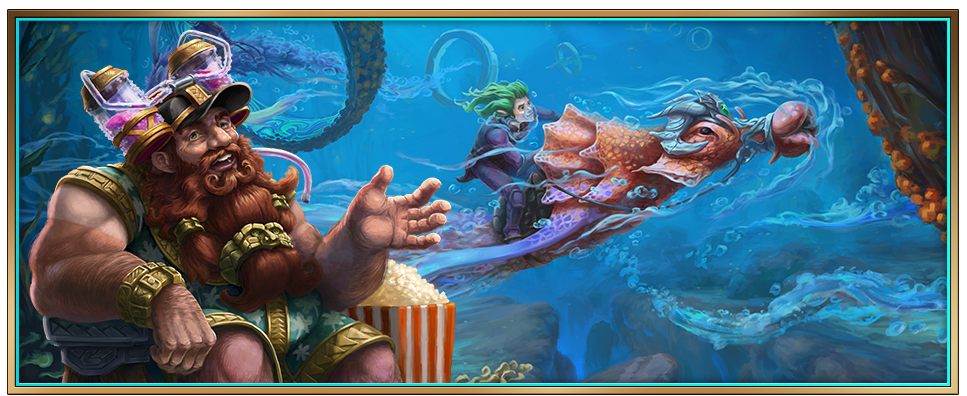 The most anticipated sporting event of Elvenar is about to start once again, bringing new experiences and challenges never seen before!

Rufus, our dear friend and the biggest fan of the Elvarian Games, has asked to meet with us to watch the spectacular games of this year. He is especially intrigued about Grand Hippocampus Hoop Derby since it features a racetrack that is designed to evolve over time! Seahorses of Elvenar will compete in each stage, challenging their speed, durability, and wits. While everyone cheers to the stronger and more beautiful seahorses, Rufus notices a little runty seahorse among them, and he feels a deep sense of empathy towards it. What will happen to it, and can it ever hope to win?
​
Dear Humans and Elves,
During this year's Elvarian Games, the story around our biggest sports event continues!
From
June 21st, until July 13th
, you are the host of the Elvarian Games! By following the questline and fulfilling tasks for Rufus, he'll award you with Seahorse Food so you can feed your seahorses and get them strong enough to swim through the underwater hoops. Of course, you can also earn Seahorse Food by reaching quest milestones, visiting your city on a daily basis, and occasionally you'll find some food that was lost around your city.

As the seahorses swim through the hoops, they will find many treasures, which of course they will bring back to you. Each time a seahorse reaches the end stage, they will reward you with one of many special Grand Prizes. By progressing through the event, you will be able to build and upgrade the special
Glory of the Nimble
evolution building:

(4x4 Population, Culture and Random Rewards)
​
This event will use the same mechanics as last year. It will also feature the Leagues system again, as well as the Royal Prize Pass!
The questline consists of a story section and additional episodic quests, which start as soon as the story is completed. This means that you will be able to finish the first series of quests right away, while later quests have new additions released on a daily basis, allowing you to continue to play 1 additional event quest on each new event day. Fulfilling the event quests will also grant you Milestone Rewards at certain points along the way.
We hope you'll enjoy hosting the games this year and are of course looking forward to reading your feedback in our
discussion thread!
If you have any questions, don't forget to check out our
Wiki pages
as well
Enjoy the games!
Your Elvenar Team

Disclaimer: Please keep in mind that there can always be differences in event layouts, balancing and prizes between Beta and Live releases. App version 1.153 is required for the event to function properly. This app version is released separately from the event. In addition to that, please note that the final day of the event spans more than 24 hours, in order to not have the event end during the night (CET). That means the Daily Exclusive on July 13 is the final Daily Exclusive reward that is also available for some more hours in the morning (CET) of July 14. No new event quest is added to the quest line on July 14th, the final Quest Milestone can be unlocked on June 13th.