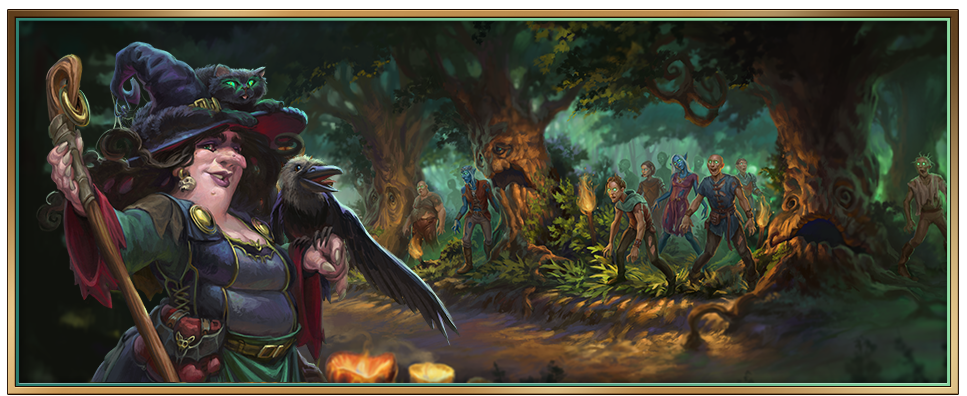 All Hallows Eve day is getting closer and again Mrs. Sniffles plans to use the convergence of spirits to perform an even stronger ritual than last year. With all her ingredients prepared she leaves the shack and walks towards the forest, chanting magic words to attract the animal spirits.

This time however, something is weirdly odd, as the spirits are nowhere to be seen. The witch decides to raise her voice, making it echo all over the woods. As she increases her concentration, her senses sharpen and inside her mind she can see, deep inside the woods, a small doll sitting near a grave... Simple and yet so ancient. Small and yet so powerful.

Snapping out of the trance, Mrs. Sniffles feels animal spirits marching towards that grave. She decides to investigate the occurrences in the Bog. Will you go with her, to find out what the cats are heading to?
​
Dear Humans and Elves,
Between
October 18th and November 8th
you can solve quests, visit your city on a daily basis and search your city outskirts to gain Magic Ingredients, which you can trade for Candles, Lanterns, and Flash Flasks to help you find your way through the Misty Forest.

Candles will clear one patch of fog at a time, while Lanterns clear an entire column from top to bottom, and throwing a Flash Flask will clear the fog on all patches directly around you, just like last year. Use your gear wisely, to make the most out of it. In the fogged patches around you, you can already see if there are any rewards, but the further you look, the thicker the fog gets. You never know what may lie ahead...
Each day you will be able to find new Daily Exclusive rewards in the Misty Forest, including brand-new buildings, buildings that have returned from older events, and other exciting rewards. You will also find Friendly Spirits wandering in the Misty Forest. If you find enough of them, you will be able to acquire even more rewards, including new Artifacts to upgrade the new Witch Doctor building to its highest potential:

(4x4 population and culture + cerberi, mana, and a Vitality Surge 10% a day at stage 10)
​
The quest line consists of a story section and additional episodic quests, which start as soon as the story is completed. This means that you will be able to finish the first series of quests right away, while later quests have new additions released on a daily basis, allowing you to continue to play 1 additional event quest on each new event day. Fulfilling the event quests will also grant you Milestone Rewards at certain points along the way.
This event will also feature the Leagues system, as well as the Royal Prize Pass!
We wish you all the courage you'll need while making your way through the Misty Forest and would love to hear your feedback in our
discussion thread!
Happy Haunting,
Your Elvenar Team

Disclaimer: Please keep in mind that there can always be differences in event layouts, balancing, and prizes between Beta and Live releases. App version 1.160 is required for the event to function properly. This app version is released separately from the event. In addition to that, please note that the final day of the event spans more than 24 hours, in order not to have the event end during the night (CET). That means the Daily Exclusive on November 8th is the final Daily Exclusive reward available for some more hours in the morning (CET) of November 9th. No new event quest is added to the quest line on November 9th, the final Quest Milestone can be unlocked on November 8th.
Last edited by a moderator: