​
Dear Humans and Elves,
The mists have returned once again, to flood the city and the woods around it. You see familiar candlelight coming from the woods. Is it her, is it not? You get closer, and you hear a familiar woman's voice.
The time of the year when the paths between the spiritual world and ours connect has finally returned! Mrs. Sniffles has long awaited this moment! She has discovered a magical place in the forest where animal spirits gather, and she is in need of their mystical help to prepare a brew that is one of a kind!

"AAha!! This is one of the strongest spiritual events in the continent, and I have prepared a very special ritual for the occasion, just you wait, and see!"

She looks very focused, while she traces the last intricate lines that complete a glowing magical circle on the ground. Motes of light come up from the earth, and then you see them - ghosts, no, spirits! - coming closer all around you, and they seem happy!

Will you be able to make your way through the Misty Forest, collect the Magic Ingredients in the woods, and help her with her ritual, and potion brewing?
Between
October 19 and November 10th
you can solve quests and search your city outskirts to gain Magic Ingredients, which you can trade for Candles, Lanterns, and Flash Flasks to help you find your way through the Misty Forest.
Candles will clear one patch of fog at the time, while Lanterns clear an entire column from top to bottom, and throwing a Flash Flask will clear the fog on all patches directly around you. Use your gear wisely, to make the most out of it. In the fogged patches around you, you can already see if there are any rewards, but the further you look, the thicker the fog gets. You never know what may lie ahead...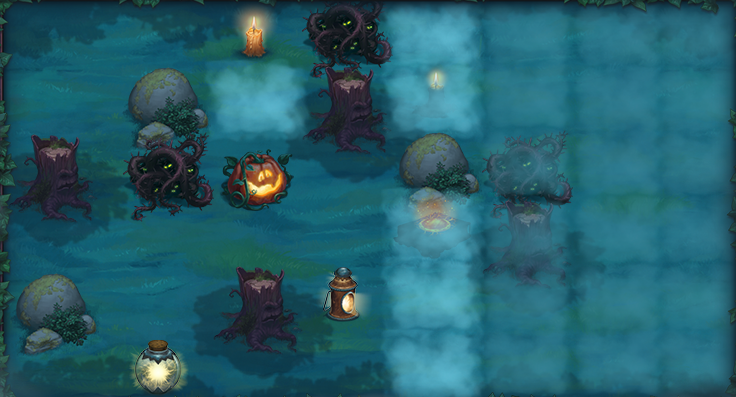 Mrs. Sniffle, the witch, will send you some Magic Ingredients that she has found every day you log in, to help you in your mission. Each day you will be able to find new Daily Exclusive rewards in the Misty Forest, including brand new buildings, buildings that have returned from older events, and other exciting rewards. You will also find Friendly Spirits wandering in the Misty Forest. If you find enough of them, you will be able to acquire even more rewards, including new Artifacts to upgrade the Witch Summoning Circle to its highest potential:
(4x4 Population + Culture and more bonuses depending on chapter and stage)
And as if those rewards weren't enough yet, at several points in the questline, you will also be rewarded with Milestone Rewards. Please keep in mind that the questline consists of a story section and additional episodic quests, which start as soon as the story is completed. This means that you will be able to finish the first series of quests right away, while later quests have new additions released on a daily basis, allowing you to continue to play 1 additional event quest on each new event day.
Returning: Royal Prize Pass
This event will use the same mechanics as last year, but besides the Leagues system, The
Royal Prize Pass is running this event as well!
This is a special Premium option that you can purchase to get extra rewards with each Grand Prize you acquire in this event.
In the Grand Prizes window, available from the bottom left corner of the event screen, you can see the upcoming event prizes that are waiting for you to be unlocked. Here, for every 20 Magic Ingredients collected, you can unlock one of the event Grand Prizes, among which you can find various high-rarity instants, together with artifacts for the brand new Witch Summoning Circle to evolve.
This year we have also added Royal Grand Prizes! The Royal Prize lane becomes available with purchasing the Royal Prize Pass and you can do so at any time in the event! When you unlock it, for every 20 Magic Ingredients collected, you can simultaneously receive one of the Royal Prizes, containing even more rewards for your city!
What's more, this year you will be able to try your luck and change the current Daily Prize randomly every time you collect 5 Friendly Spirits!
As you see that you have reached 5/5 Reroll charges, and you want to change your Daily Prize, just press the Reroll button, confirm your choice, and you will see your Daily Prize change for the day!
This will not change the list of Daily Prizes that are scheduled to appear every new day of the Event, and don't worry, re-rolling the Daily Prize will not consume any of your Friendly Spirits. All of them will still count towards your league placement and prize progress.
Please note that when you fill up your Reroll charges and decide not to use them, their power will dissipate at the end of the day.
But you will be able to collect more Reroll charges yet again, as you explore the Misty Forest.
Mrs. Sniffles' voice comes up from her "Hold your magical hats! I have outdone myself again, and have created a brand new potion! The concoction produced during the ritual is said to be able to absorb and store all the spiritual energy released by the Friendly spirits, and store it to aid in the crafting of exotic spells and enchantments!"
She triumphantly pours the mixture into a small flask and shows it to you. The green-yellow glowing liquid exudes a mystic air full of potential.
You have heard well: among the Grand and Royal prizes of this event, you will be able to find a brand new item - the Sip of Clarity - allowing you to refresh the rotation of your Magic Academy's crafting recipes 100% cost-free!
We wish you all the courage you'll need while making your way through the Misty Forest and would love to hear your feedback in our
discussion thread!
Happy Haunting,
Your Elvenar Team
For more information on the Event, visit our Wiki page by clicking
here
.

Disclaimer: Please keep in mind that there can always be differences in event layouts, balancing, and prizes between Beta and Live release. App version 1.137 is required for the event to function properly. This app version is released separately from the event. In addition to that, please note that the final day of the event spans more than 24 hours, in order to not have the event end during the night (CET). That means the Daily Exclusive on November 9th is the final Daily Exclusive reward that is also available for some more hours in the morning (CET) of November 10th. No new event quest is added to the questline on November 10th, the final Quest Milestone can be unlocked on November 9th.
Last edited: