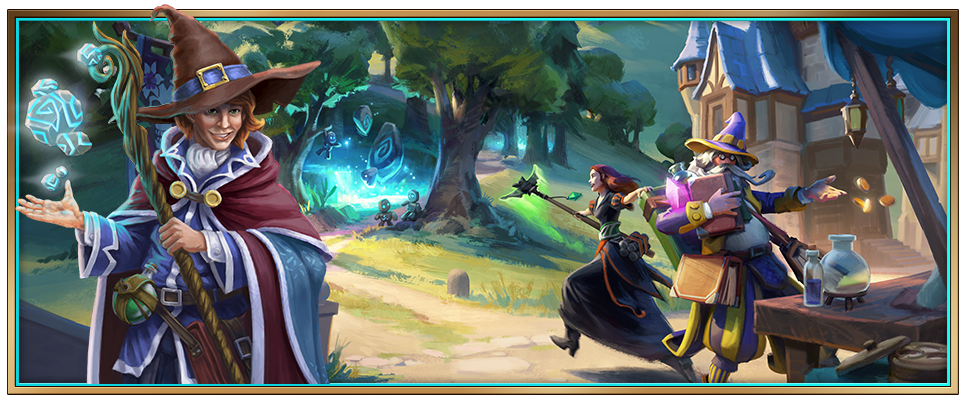 This year, after a year of intense studying, Zaphiel helps to guide the newly appointed Pilgrims back to your city. But on the way, there are many perils that they need to deal with. Mana Crevasses have been sprouting from the ground all over the land. The sorcerers are gathering in the city to try and control them in the most populated area, but Zaphiel has to guide the young sorcerers before they can help in the efforts to save the city. Can you help them get back in time to save your city from total destruction?
Dear Humans and Elves,
This year's June Event - Sorcerers' Homecoming - brings you a new storyline to uncover as you try to get your newly appointed Pilgrims back to your city.
From
June 8th until June 29th
, you should do everything in your power to help your sorcerers gather as much Sorcerers' Knowledge as possible. Of course, there is not just one way to gather this knowledge. Just for the experience of visiting your town on a daily basis, you will be rewarded with some knowledge every day already, and you'll even gain knowledge by investigating random magical appearances in your city's outskirts. You can also fulfill the special event quests from Zaphiel, which let you reach event quest milestones, containing even more Sorcerer's Knowledge.

As you reach the various Beacons of Power on your way back home, you will find many treasures therein. Each time one of your sorcerers has traveled great distances to complete their journey to the Tower of Wisdom, you will also be rewarded with one of many special Grand Prizes. By progressing through the event, you will be able to find all the buildings from this year's new Pilgrim's Manor Set:

This event will use the same mechanics as last year's Sorcerers' Pilgrimage. One addition is that this time, we will be introducing our new Leagues system. The more you play and the further you get, the more extra rewards you will receive, including a unique and exclusive portrait!
The questline consists of a story section and additional episodic quests, which start as soon as the story is completed. This means that you will be able to finish the first series of quests right away, while later quests have new additions released on a daily basis, allowing you to continue to play 1 additional event quest on each new event day. Fulfilling the event quests will also grant you Milestone Rewards at certain points along the way.
We hope you'll enjoy getting your Pilgrims back to your city, and as always, we're curious to hear your feedback, both on the event itself and on the new Leagues system, in our
discussion thread!
Kind regards,
Your Elvenar Team
For more information on the event, visit our Wiki page by clicking
here
!

Disclaimer: Please keep in mind that there can always be differences in event layouts, balancing, and prizes between Beta and Live release. App version 1.129 is required for the event to function properly. This app version is released separately from the event. In addition to that, please note that the final day of the event spans more than 24 hours, in order to not have the event end during the night (CET). That means the Daily Exclusive on June 29th is the final Daily Exclusive reward that is also available for some more hours in the morning (CET) of June 30th. No new event quest is added to the questline on June 30th, the final Quest Milestone can be unlocked on June 29th.
Last edited: