Dear Humans and Elves,
Today we proudly present a brand-new, temporary questline for you to complete! In this series of 17 quests, you will learn about a bit of... rivalry between the Human and Elven races. Do you have what it takes to complete all the quests?
When you log in, you will find two new questgivers on the left side of your screen, specifically for this questline. The first will give you the quests, and the second will keep track of how far you are into line itself. At the top of the screen you will see how much time if left that The Contest is available.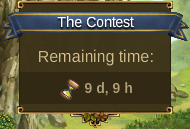 Please note: the questline will only be available for a limited time, so log in and complete the questline now!
Let us know what you think about these quests by leaving a comment in the
discussion thread
.
Kind regards,
Your Elvenar Team
Last edited: