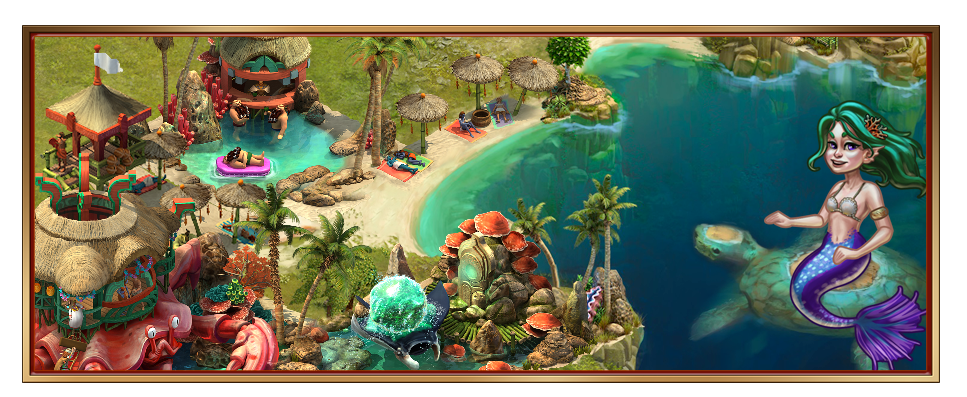 Dear Humans and Elves,
Mermaids from near and far have heard of your deeds to restore their Queen's memories. They have swum to your cities, bringing the nice, relaxed feeling of summer with them, as well as some other friendly creatures from under the sea. Can you help them set up the most awesome beach party Elvenar has ever seen?
Between
August 5 and August 29
you can solve their quests to gain wonderful prizes. Each quest you complete rewards you with Corals, which you can use to open shells containing a multitude of prizes, including a lot of awesome new reward buildings as special Daily Prizes. By opening shells, you will also acquire Pearls which fill up the Grand Prize bar. Corals to open these shells can also be found in the surroundings of your city or won in the Mystical Object of the Magic Academy.

​
Between these Grand Prizes, you will find some Mermaid Artifacts, which you can use to evolve this event's special evolving building: The Mermaids Paradise.

(4x4 Population + Culture and more bonuses depending on chapter and stage)​
But that's not all yet, for we have something new to share: In this event, you cannot run out of quests anymore! As you join Mauriel and her friends in the quest to collect more Corals, you will notice that there is no more hard end to the quest line. Keep working on all the tasks you get and you can keep gathering as many Corals as you wish. To be able to achieve this never-ending quest line, we are adding a little twist to the system. Because of this, you might notice that your personal quest requirements may at certain points differ from the ones your fellow players are getting. But worry not, thanks to the way the game chooses these requirements, every player will face a very similar difficulty curve in the event and you will see a great variety in tasks within this open-ended quest line.
For more information on the event, please check out our
dedicated wiki page
or watch the video below in which Julia and Jedrzej join the party and explain the event:
We wish you a lot of joy with this year's Summer Event and we would love to hear your feedback in
our discussion thread
!
Kind regards,
Your Elvenar Team