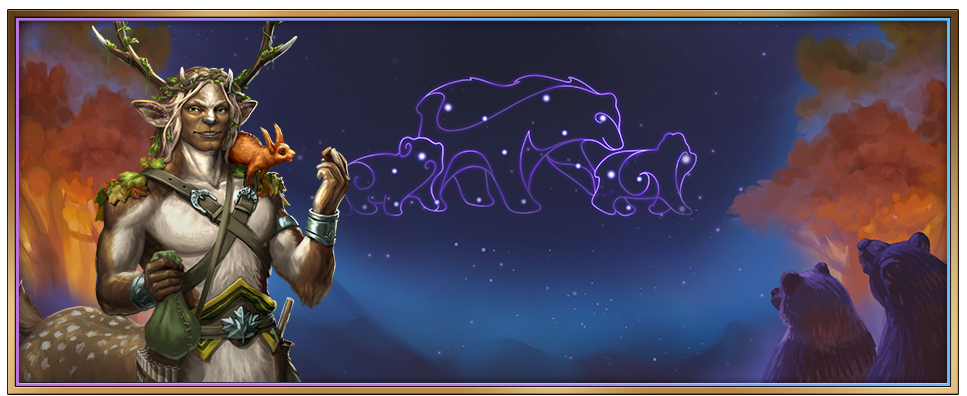 Once again, the stars are aligning and a spherical conjugation has begun. While you are waiting with anticipation for the arrival of another celestial bear visitor, to your surprise a rather strange-looking and definitely not a celestial creature finds his way towards your city. Exhausted and famished, he followed the stars to your city, where he hopes to find some help to repair his vessel and some tasty food to fill up his belly. Well, he just arrived at the time of the Harvest Festival! Will you help and feed this strange creature, so you can learn all about his mysterious life?
Dear Humans and Elves,
From
September 6th, until September 27th
, you will be able to enjoy this year's Autumn Zodiac event! By following the questline and fulfilling the event tasks, you will be rewarded with Golden Keys which you can use to open up Spheres containing all kinds of prizes, including varying daily rewards. Of course, you can also find Golden Keys around your city outskirts, by reaching quest milestones, and by visiting your city on a daily basis.

Each Sphere you open will also reward you with a small amount of Star Dust which gathers in your progress bar towards the special Grand Prizes, including Evolution Artifacts for this year's new bear, the
Witty Racoon:

The Witty Racoon will provide you with population, culture and switchable productions depending on your chapter and its evolution stage. When you feed him, he will boost his own productions.
The quest line consists of a story section and additional episodic quests, which start as soon as the story is completed. This means that you will be able to finish the first series of quests right away, while later quests have new additions released on a daily basis, allowing you to continue to play 1 additional event quest on each new event day. Fulfilling the event quests will also grant you Milestone Rewards at certain points along the way. More information about Autumn Zodiac can be found on the
Elvenar Wiki
.
This event will also feature the Leagues system, as well as the Royal Prize Pass!
We wish you the best of luck with raising your Witty Racoon and are looking forward to reading your feedback in our
discussion thread!
Kind regards,
Your Elvenar Team

Disclaimer: Please keep in mind that there can always be differences in event layouts, balancing, and prizes between Beta and Live releases. App version 1.158 is required for the event to function properly. This app version is released separately from the event. In addition to that, please note that the final day of the event spans more than 24 hours, in order to not have the event end during the night (CET). That means the Daily Exclusive on September 27th is the final Daily Exclusive reward that is also available for some more hours in the morning (CET) of September 28th. No new event quest is added to the quest line on September 28th, the final Quest Milestone can be unlocked on September 27th.