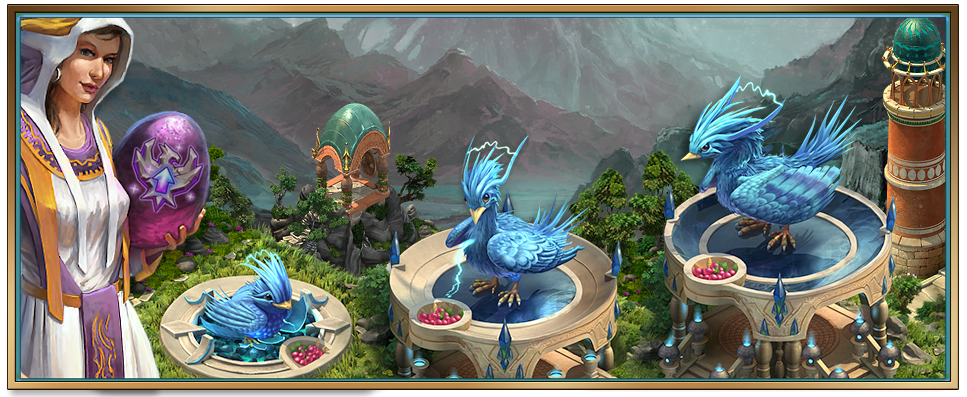 ​
Dear Humans and Elves,
The Phoenixes that are by now familiar to you, have once again struck down to visit your city around this time of the year and you are in for an interesting surprise as the Phoenix Cult returns.
Between
April 15 and May 12, 2019
you can find eggs randomly appear around your city and fulfill special quests to gain Sky Essence. You can use this Sky Essence to open Chests for special daily prizes and Phoenix Feathers. These Phoenix Feathers can be used to unlock the Grand Prizes!

​
This year something new will happen, though! As once foretold by the prophecy, the Phoenix cult has uncovered three very special eggs and they want you to hatch them! Each of the eggs can be placed in your city and will bring its own special benefits. By collecting Phoenix Artifacts, you can hatch these eggs and let them evolve into powerful Phoenixes. Phoenix Artifacts are scarce, though, and may only appear very rarely outside of this event, so make strategic choices as to which Phoenix you'd like to evolve first. Each Phoenix is specialized in certain bonuses, and the further they evolve, the stronger these bonuses become.

Like all animals, Phoenixes tend to get hungry from time to time. Feed them with special Pet Food to activate additional magical bonus effects!
Fire Phoenix - Increases Unit damage
Storm Phoenix - Increases bonus effect of Magical Manufacturing Enchantments
Aureate Phoenix - Increases production of boosted Goods
You can earn more Pet Food by finishing the quests of the event or craft it yourself in the Magic Academy. The recipes remain available after the event ends, so you can keep feeding your Phoenixes as you please.

For more information about the event, please refer to our dedicated Wiki page (when available) or let Rike and Nino show you how everything works in their event video:
We hope you have a wonderful time hunting for Sky Essence and are egg-stra curious to hearing your feedback in our
discussion thread
!
Kind regards,
Your Elvenar Team
Last edited: