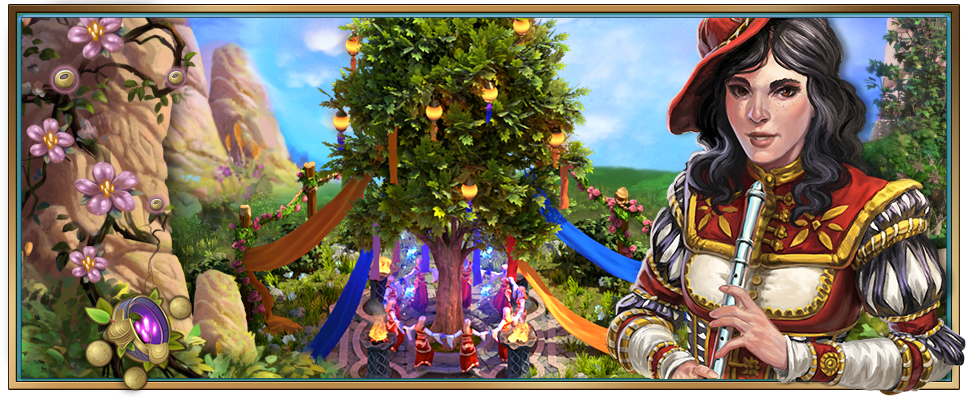 Dear Humans and Elves,
It is time for festive decorations, as all people in Elvenar celebrate the customs of spring and fertility. Young and old are outside to have a look at the majestic May Tree, which blossoms in most beautiful colors. But not only does the Tree sparks interest, people from all over Elvenar have gathered for a fantastic fair: You see children on the merry-go-round, sorcerers selling cotton candy, Halfling musicians on public stages and romantic carriages waiting for a ride. Come and join the festivities and meet Bardbarella from the Bards College. Together, you will roam the celebration grounds, entertain yourselves, help a few people in need, and maybe learn a thing or two about traditions.
By fulfilling the quests and searching the outskirts of your city, you can find
Spring Seeds
, which you can use to
open Flowers
. Each Flower you open will contain a random reward and provide you with
Life Force.
With this Life Force, you can open
Blossoms
on the
May Tree
. Once each Blossom on the tree blooms, the next
Grand Prize
is unlocked.

Each day there is a set of 16 Flowers to open with Spring Seeds. These Flowers contain one of several rewards, including the Daily Exclusive from a collection of new and returning rewards. 3 of the 16 Flowers also contain a Special Item, each with a special effect:
"Double Reward" - A "x2" modifier that will double the reward contained in the next Flower you open.
"Reveal Two" - This item lets you see the contents of two previously uncovered Flowers, allowing you to preview what's inside before opening them.
"Reshuffle" - Once you open a Flower containing it, you will return to 16 unopened Flowers that you need to shuffle again. While this may reset your progress in looking for a specific prize, it also allows you to win all previously earned items again. If a Flower containing a Reshuffle is opened, your invested Spring Seeds for opening this Flower are returned.
The Life Force you obtain from Flowers allows you to bring the May Tree to full blossom. Each time you use one Life Force, a small Construct sets out to randomly add 1-3 Blossoms to the tree. Once all 20 Blossoms opened, the tree is complete and you are rewarded with the next Grand Prize on the list, including Festive May Tree Artifacts, which can be used to upgrade your very own evolving Festive May Tree building.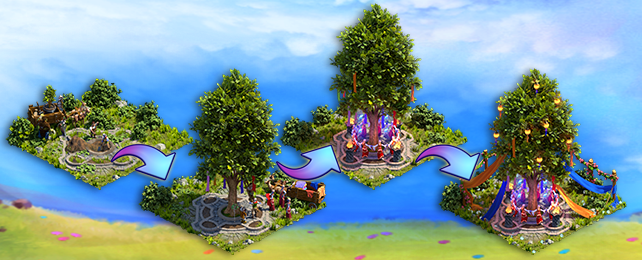 (4x4 Culture, Population and Coins production, unlocking more options depending on Chapter and building Stage reached)
​
The May Celebrations come with several new mechanics. One of them is a
Daily May Reward
, granting you enough Spring Seeds to open one Flower right away. Make sure to log in daily and collect your bonus to open as many Flowers as possible!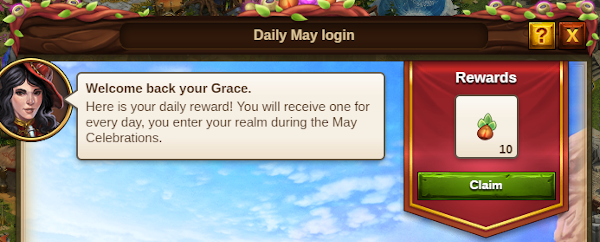 Another new mechanic comes in the form of
Quest Milestones
. The more quests you finish, the more additional rewards you get to unlock, including more May Tree Artifacts!

Furthermore, you will notice some changes to the event quests this time around! There is a limited story questline that you get to complete. Once that is finished, you unlock additional episodic quests. One of these quests is added to the list of available quests with each new day of the event. All quests reward you with 10 Spring Seeds, enough to open another Flower.
The event will run from
May 11th until May 30th
, so make sure to complete all quests and open all your Flowers in time! If you're looking to find even information about the event, please visit the
Elvenar wiki
or watch the video below:
We wish you a lot of fun with the May Celebrations, and of course, would love to hear your feedback about it in our
discussion thread
!
Kind regards,
Your Elvenar Team