This guide forms part of a larger guide
Mykans Guide
Tournaments
Tournaments are a weekly event with various prizes for individuals and fellowships. You can also gain ranking points if you finish in the top 100 players on your world at the end of the tournament. Each tournament focuses on a specific relic and it takes 9 weeks to get through all 9 relics. You need to decide for each tournament if you wish to compete.
Tournaments occur in a predictable pattern, with a predictable grouping of goods needed to cater, and a predictable main troop type.

So a tournament from group 1, say Crystal will rely heavily on marble, crystal and elixir for catering and use Heavy Melee troops mostly for combat. This allows you to prepare goods and units in advance for tournaments you wish to prepare for.
Rewards
Fellowships
There are 10 reward levels with prizes varying between KP, spells, relics, runes and blueprints. Rewards are paid out at the end of the tournament and add together. If your fellowship obtains the second level they would get the prizes for level 1 and level 2.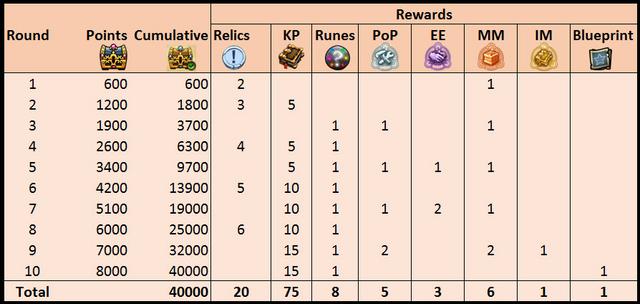 Individuals
Individual rewards follow a specific pattern. knowing the pattern will help you learn how to target certain rewards. For example if you want KP as a reward you may choose to do province 1 to level 2 and province 2 to level 1 to earn 4KP for very little cost. Or you might choose to do as many provinces as you can to level one and then only those that give KP for level 2 focusing on provinces 10+ due to highest KP rewards.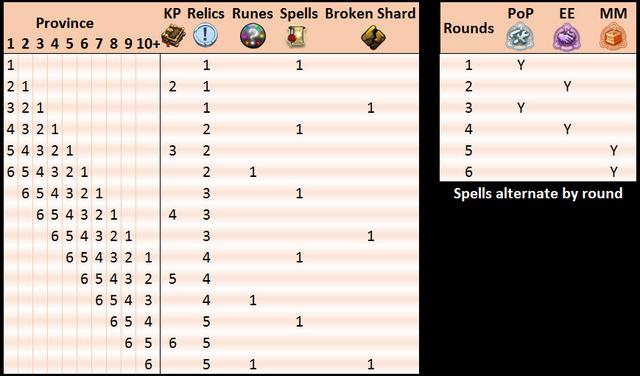 Strategy
Your strategy or reason for doing a tournament will influence how you approach them. Reasons to do a tournament:
Earn ranking points
Earn relics
Earn knowledge points
Earn runes
Earn broken shards
Earn spells

Earn Blueprints (part of fellowship rewards)
Participate in fellowship rewards
Ranking points
- When competing it is better to do fewer tournaments to a high level than lots of tournaments to a low level. The tournament points increase for each level completed and the more tournament points earned the better your ranking for that tournament.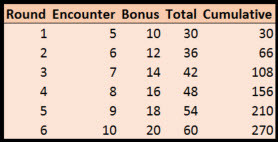 Relics
- Relics are evenly spread the first 3 rounds provide 1 relics for the first three levels. You earn 2 relics for the last 3 levels of the first 3 provinces or for the first 3 rounds of provinces 4-6. Refer to the table on rewards to review the pattern. You will need to determine if doing more provinces to lower rounds or less provinces to higher rounds will net you more relics based on your preferences, supply of goods and battle ability. Your fellowships participation will also help you earn extra relics so keep an eye on their progress.
Provinces 10+ provide the greatest amount of relics but are also very costly to achieve.
Knowledge points
- Determine how many KP you want based on what costs you can afford. Provinces 10+ provide the greatest amount of KP but are also very costly to achieve. Your fellowships participation will also help you earn extra relics so keep an eye on their progress.
Runes
- Fellowships receive runes for achieving checkpoint 3 and above. As an individual you can also focus on a pattern to maximize runes. Completing province 1 to level 6, province 2 to level 5, province 3 to level 4, etc until province 6 at level one would earn you 6 runes at reasonable costs plus fellowship rewards and 840 tournament points. If most of your fellowship was doing this that would be checkpoint 6 or 7 for fellowship rewards and another 4-5 Runes.
Runes received from fellowship rewards can be any for any wonder, those received by an individual are only for wonders you have unlocked the technology for.
Every province 10+ has a rune at round 3 and 6.
Broken shards
- These rewards are spread though the provinces. The easiest ones are in the first 3 rounds and can be achieved by only doing 6 rounds in the first 3 provinces. This is very cheap, just ensure you do not cross the maximum limit of 10 otherwise the reward is lost.
There are some between province 5-9 at various level or every province 10+ has them as a reward for level 6.
Spells
- There are different spells offered as rewards and the rounds you complete determine which spells you obtain, generally not which province you do. If you want Power of provision spells focus on as many provinces to rounds 1 and 3. If you prefer Ensorcelled Endowment then focus on rounds 2 and 4. Magical Manufacturing are only available in rounds 5 and 6.
Inspiring meditation can only be obtained as a fellowship reward for the 9th checkpoint. A fellowship earns spells for many checkpoints.
Fellowship rewards
- There are group awards that can be earned by a fellowship. You need to be a member of a fellowship to participate in these rewards, be sure to be in a fellowship before the tournament ends. All of the individual scores for a tournament are added together to combine for a fellowship score. See the table below for fellowship reward levels and prizes.
While the highest rewards can be achieved with 25 members completing 6 provinces to round 6 it is also possible to achieve this without the same level of commitment from all members. It is very helpful to get as many members to participate as possible even if some only do the first round.
Fellowships may look at focus weeks where they try to push as hard as possible to achieve top results. One approach that rotates the weeks is to focus on every 4th week. This allows a fellowship recover time and ensures everyone relic is focused on in time.
Achieving the final chest
To attain the 10 reward chest for fellowships takes work from all members of your fellowship. The more people who help the less work individuals need to do. As your progress your fellowship should be close to or above certain key points to remain on track to the final reward.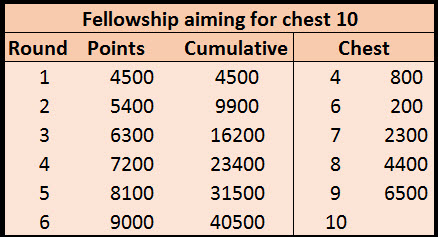 This chart shows you the goals after each round. So for round 4 your fellowship should be 4,400 points towards achieving the 8th chest and for round 5 near the end of the 9th chest at 6,500 points.

One idea for fellowships that would like to try for the final chest but cannot do it every week is to pick focus weeks. Either specific good types or on a rotating 4 week schedule also works. The 4 week schedule allows for time to recover and stockpile for the focus week. It also ensures all good types get a turn at the focus week.
Catering

For those who prefer to cater for tournaments there is a set pattern, refer table above on tournament order.

Each tournament falls into one of 3 groups as shown above. Goods from that group are mostly used as catering costs. Expect to use a lot of goods if only catering.

Catering costs increase based on your technology level, this was previously based on scouted provinces in the world map

.

Lower technology players have cheap catering costs compared to a more advanced player but the costs at their level are relatively expensive. By catering a lot a person may need to review their manufactories and ensure they focus on boosted goods. Basic and Crafted goods tend to be the most in demand.

Towns that are at the Orc chapter will start to require Orcs (resource) in addition to goods as a catering cost.

Fighting

For those who prefer to fight, building wonders that provide a boost to your troops strength is important. The squad sizes in tournaments are fixed. While the squads are larger for more distant tournaments your squad size is proportional to the enemies. As you progress through the levels the squads become equal and then eventually you have a smaller squad compared to the enemy. An improved quality of your troops will help offset the smaller quantity.

Squad sizes vary based on your progress in the tech tree but there is a relative size of the enemy to you. From Muf-Muf (beta forum community manager) note there may be slight variation from rounding.

0-star: enemy is 85% of your own

1-star: 100%

2-star: 115%

3-star: 130%

4-star: 145%

5-star: 160%

The number of squad size technologies you have researched will directly influence the size of squads in tournaments and how they increase for each province. The first province your squad size is 5% of your world map squad size, this increases by 5% for each province further out that you go. Thus by province 20 you are facing squads equal to your provincial squad size.

A simple guide to tournament fighting is to stockpile the key unit type for the tournament. Refer to the combat section for a more detailed guide on fighting. The key unit types for each province is summarised below.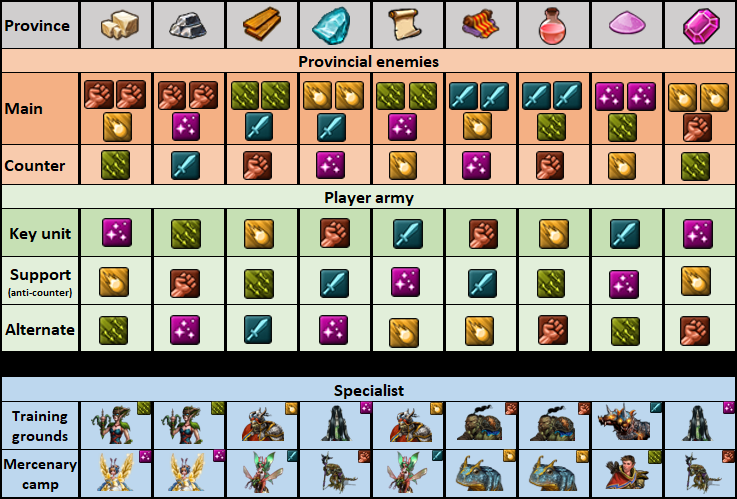 Changing fellowship
If you change fellowships during a tournament your points are removed from the first fellowship and only added to the new fellowship if you complete a tournament round.
Other resources
Platinum leaf also has an excellent
resource
on tournaments.
A great reward calculator
http://bit.ly/tournamentRewards
Last edited: