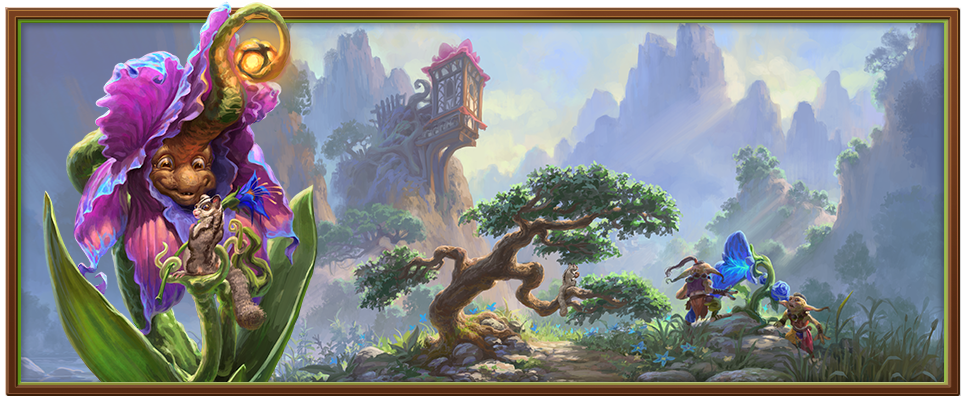 The winter ends and the first traces of spring start to appear on the continent of Elvenar. A lonely goblin sits on the border of a hill admiring the colors of the sky while the sun rises. While he looks at all the colorful flowers, his heart starts to warm up. Where does this feeling come from?

As he admires the beautiful scenery, the pollen causes him to feel a strange tickle in his nose. That tickle becomes stronger and stronger and suddenly... with a powerful sneeze, the goblin changes into a flower! With a smile, the Goblin touches the ground and feels the pleasant textures of the mud between his fingers, and he feels a sudden peace of mind while he becomes one with nature. He then decides to start using his newly found power to turn Elvenar into one colorful blanket.
Dear Humans and Elves,
This year's May Event - Naturally Amazing - brings you a new storyline to uncover as you try to help the Flower Goblin bring color to the world of Elvenar.
From
May 10th, until June 1st
, you can earn Bronze Shovels by completing the event quests, by visiting your city on a daily basis, or find them as they are left behind around your city. Use these Shovels to dig in your garden and discover many of the prizes that lie buried, including the changing Daily Exclusives. In each patch of dirt you dig in, you will find a random reward, a seed for special prizes and Enchanted Flowers to help you progress towards the Grand Prizes.

By unlocking the Grand Prizes this year, you will be able to find and evolve the Flower Goblin Epiphany:

Flower Goblin Epiphany
(4x4 - Bonuses depending on Chapter and stage)
​
This event will use the same mechanics as last year's May Event. The questline consists of a story section and additional episodic quests, which start as soon as the story is completed. This means that you will be able to finish the first series of quests right away, while later quests have new additions released on a daily basis, allowing you to continue to play 1 additional event quest on each new event day. Fulfilling the event quests will also grant you Milestone Rewards at certain points along the way.
New this year is also the introduction of flower beds which you can place around your city and that give you temporary boosts until their effects are expired! To the Royal Prize Pass we'll also introduce a new building, the Arcane Ferris Wheel, in which you can produce Spell Fragments, Time Boosters, Combining Catalysts, and the Sip of Clarity!
This event also contains a Royal Prize Pass option again, but no League System.
We hope you'll enjoy helping out the Flower Goblin, and as always, we're curious to hear your feedback in our
discussion thread!
Kind regards,
Your Elvenar Team
For more information on the Event, visit our Wiki page by clicking
here
.


Disclaimer: Please keep in mind that there can always be differences in event layouts, balancing, and prizes between Beta and Live releases. App version 1.151 is required for the event to function properly. This app version is released separately from the event. In addition to that, please note that the final day of the event spans more than 24 hours, in order to not have the event end during the night (CET). That means the Daily Exclusive on May 31st is the final Daily Exclusive reward that is also available for some more hours in the morning (CET) of June 1st. No new event quest is added to the questline on June 1st, the final Quest Milestone can be unlocked on May 31st.