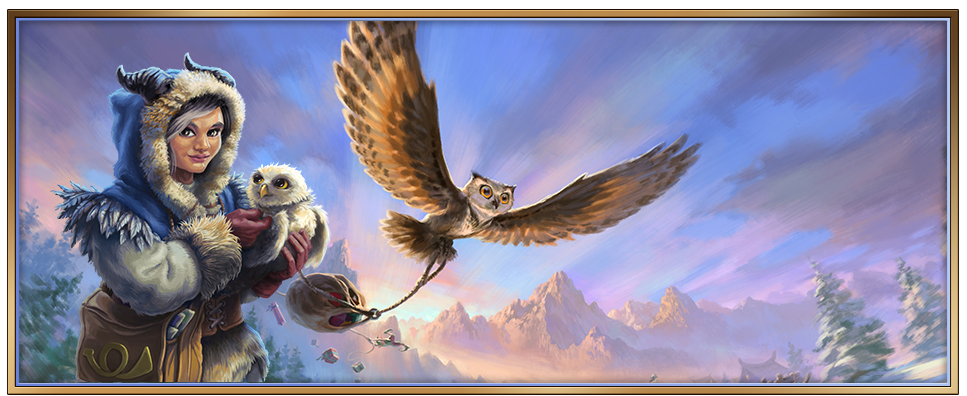 ​
As the winter starts and the snow spreads over Elvenar, a dreamy and skillful goblin called Boblin wanders over the continent looking for the perfect spot to realize his most ambitious dream. After finding a nice entry point to the underground of the continent, Boblin finds a network of natural tunnels that expands further than his little eyes can reach. The little goblin's eyes shine with happiness. This is it! The place where he will start bringing his plans to life to construct his own package distribution network. His ambition and dedication attracts Elves, Humans, and other Goblins to work on the huge project.

As the construction progresses, the sounds of the happy workers, whizzing snow sleds, and all the machinery being built attracts the attention of a very curious young owl, Uli. Uli is the new delivery trainee in the postal service and is amazed by all the colors, movements, and shining metal parts from Boblin's distribution center. Her Trainer, Inuma, starts to feel that Uli is absent from service quite often and follows her into the snowy fields to find the beautiful village built by the different races. Funny as it can be, she discovers that Uli built her nest in a huge and curious structure that looks a lot like her own post office.

Exploring the area, Inuma discovers the great network built in the underground and realizes that a partnership between the postal service and the letter delivery service is a great opportunity to ensure that more and more villages are supplied with all the gifts, even during the strongest of storms. Of course, your help would be very important to support Boblin and Inuma into building the biggest distribution network seen in the continent and deliver the winter spirit to all the inhabitants of Elvenar.
Dear Humans and Elves,
Our annual Winter Magic event is back! This year you can assist Boblin and Inuma to deliver joy to the citizens of Elvenar, and of course, help Uli get on her way and learn the basics needed to be a good delivery owl.
From
December 6th until January 4th
, you can earn Postal Keys by completing event quests, visiting your city on a daily basis, or finding them as they appear around your city. Use these Postal Keys to open Post Boxes and discover many of the prizes within, including the changing Daily Exclusives. For each Post Box you open, postal owl Uli will take a Winter Gift and fly it over to the next house, bringing her one step closer to unlocking the next Grand Prize for you!

Play the questline of this event to not only gain Postal Keys but also to unlock valuable Milestone rewards!
Among the Grand Prizes in this event, you will find special Evolution Artifacts which can help you expand Boblin's Express Service to a world-leading company in postal services!

Boblin's Express Service
(4x4 - Bonuses depending on Chapter and stage)
​
Each day in the Winter Magic event starts with a total of 16 locked Post Boxes that are just waiting for you to open. Behind the door of each Post Box lies one of many rewards for you to collect, including the changing, winter-themed Daily Exclusives.
Every Post Box you open also contains a Winter Gift that Uli, the new delivery owl, will bring to your citizens. Once she delivers a total of 20 Winter Gifts, the next Grand Prize is unlocked for you.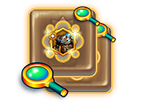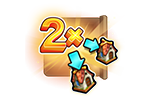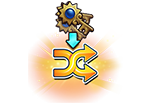 Looking to open the Post Boxes with the most valuable rewards? There are several tools at your disposal that you can use to put your Postal Keys to best use:
"Reveal Two" - This lets you see the contents of two closed Post Boxes, allowing you to preview what's inside before opening them.
"Double Reward" - A "x2" modifier that will double the reward contained in the next Post Box you open.
"Shuffle" - This function lets you close all previously opened Post Boxes, and shuffles the rewards contained within. This gives you the opportunity to discover new rewards, or to obtain a previously uncovered Daily Exclusive prize again.
These tools can be used freely as soon as their respective requirements are met. Reveal Two and Double Reward simply need you to open the marked amount of Post Boxes to become active, while Shuffle can be activated by spending some of your Postal Keys.
For this event, there will not be a Leagues system, but we will have the Royal Prize Pass available, and for the evolution artifacts there will be a Reward Selection Kit, as introduced with our last round of the Fellowship Adventures, so you can choose which Winter artifacts would suit you best.
We hope our event brings some winter spirit to your city. As always, we're curious to hear your feedback in our
discussion thread!
Happy Holidays,
Your Elvenar Team
For more information on the Event, visit our Wiki page by clicking
here
.

Disclaimer: Please keep in mind that there can always be differences in event layouts, balancing, and prizes between Beta and Live release. App version 1.142 is required for the event to function properly. This app version is released separately from the event. In addition to that, please note that the final day of the event spans more than 24 hours, in order to not have the event end during the night (CET). That means the Daily Exclusive on January 4th is the final Daily Exclusive reward that is also available for some more hours in the morning (CET) of January 5th. No new event quest is added to the questline on January 5th, the final Quest Milestone can be unlocked on January 4th.
Last edited: