This guide forms part of a larger guide Mykans Guide

Wonders
The first wonder technology is available in the second chapter with more wonders unlocked later in the technology tree. The wiki has a good section on wonders here. Wonders by era:

Secret Ancient wonders - bonus portrait for building wonder

Golden Abyss
Tome of Secrets

Ancient wonders of Tempest - bonus portrait for building wonder

Endless Excavation
Needles of the Tempest

Elven/Human Ancient wonders - Race specific, special backdrop image for your town when built

The Bell Spire (Human) / Crystal Lighthouse (Elven)
The Sanctuary (Human) / The Monastery (Elven)

Forgotten Ancient Wonders - bonus portrait for building wonder

Watchtower Ruins
Thrones of the High Men

Dwarven Ancient Wonders - Special backdrop image

Dwarven Bulwark
Mountain Halls

Fairies Ancient Wonders - Special backdrop image

Prosperity Towers
Blooming Trader Guild

Orcs & Goblins - bonus portrait for building wonder

Heroes' Forge
Shrewdy Shrooms

Wood Elves - bonus portrait for building wonder

Enar's Embassy
Flying Academy

Sorcerers & Dragons

Maze of the Dark Matter
Dragon Abbey
The maximum level for a wonder is level 20.

Runes
You need to collect a set of 9 runes for any wonder you wish to build and you will need these sets again for levels 6, 11 and 16.

Earning Runes
Runes are gained from:
Completing provinces

Rewards for top contribution to someone's wonder (You get none for your own wonder)

Tournaments

Some quests (very rare)

Events (Summer Solistice)
Rune Wheels
Each wonder has its own rune wheel to record how many runes you have, which ones you have activated and how many broken shards you have.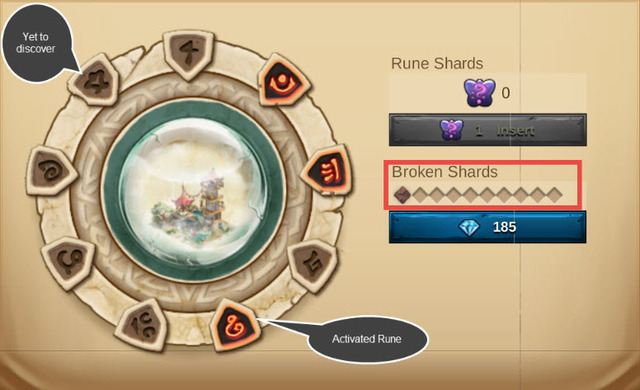 While assembling a set of runes any duplicate rune will shatter. A collection of 10 broken runes can be exchanged for 1 guaranteed rune for any wonder of your choice. These are best used for the last rune in the wheel, but that is not always possible. Choose carefully which wonder is best to get a guaranteed rune for. If you do not convert the 10 broken shards into a new rune any extra broken shards are lost.

Leveling wonders
Wonders can increase in power in 2 ways:
Upgrading

Based on progression of your town
Upgrading
Each wonder needs a certain amount of research using Knowledge Points, ("KP"), before it is ready to upgrade to the next level. Once a person has a wonder technology unlocked they donate to anyone's wonder, whether they are in your fellowship, discovered or undiscovered players. You can also donate KP to your own wonders.

Each wonder provides a certain amount of rewards for the top contributors to the wonder. These rewards are bonus KP and a rune of the type of wonder contributed to. Other than specific quests or broken shards there is no other method of obtaining a guaranteed rune for a specific wonder. Runes received for wonders not yet researched are stored until you unlock the related technology.

Rewards for completing the research are paid out at the time the research completes.

Town progression
Wonders can also develop as your town progresses. Many bonuses are based on a percentage of various things, Max coin/supply storage, provinces explored, squad size, working population and required culture. As wonders are based on a % some wonders may only give a very small bonus at the time of unlocking them and will only be more powerful later.

Methods of leveling wonders
There are a number of different methods for leveling wonders and you will need to find a method that suits you best. (credit to katwijk for much of the information)
Do it yourself
Direct swap
Round robin
Endless KP swap
Spreadsheet assisted pool
Do it yourself
This is fairly straightforward. You put your own points into your wonder to level them up. You will get no bonus KP or runes. If you are lucky fellowship members or random neighbours may throw in the last couple points to take the rewards. The big downsides are the time to level and no rewards for leveling a wonder.

Direct swap
You find a person willing to swap KP with you and you put an greed amount or % of KP into each others wonder. This can be done by also putting points into your own wonders, like 40/40/20 with the 20% coming from other people trying to earn the remaining. This is very simple and easy to manage and you should both get top contributor to the other person's wonder but it can take a while to level.

Round robin
There can be a number of variations but basically a small group of people agree to all contribute to each other's wonders. This could be A gives to B who gives to C who gives to A or it could be we all give to A on Monday and B on Tuesday, etc. The time for a payout can be long and the group can be prone to "snipers" taking the rewards. These methods tend to be easy to monitor but do have fixed contributions.

Endless KP swap
Usually within a fellowship an agreed amount of KP is determined and you donate to the last person who posted in the thread. This method is also very easy to manage but can be the slowest for getting rewards and your are invested in multiple wonders all over the place. If you are on an international server then the time zones can impact your ability to participate quickly as you are waiting for someone to donate to your wonder often finding your donations might go outside the scheme. The fixed KP amount of the swap can also be a hindrance if you have a lot of KP to swap as you are reliant on others to invest before you can invest in them.

Spreadsheet assisted pool
This method is more complicated to manage, but very effective. All donations to the pool are tracked and members focus on a small number of wonders at a time. This can mean rewards for leveling wonders are realised very quickly, within a couple days. There is also the added benefit of a team approach which can be great for fellowships who want a team spirit. With no fixed contribution you have the flexibility to adjust to your game needs and know your contributions will be returned. This is also the only method that allows people who do not have a wonder to contribute prior to building their wonder.

@Katwijk
has 2 posts explaining how a spreadsheet system would work along with his analysis of the different methods of levelling wonders.
Katwijk Analysis of KP clubs
- This also includes an explanation of a spreadsheet method
Katwijk Explanation of a spreadsheet method
Crazy Wizards Website
Lists known reward payouts for each wonder
Last edited: